By Associated Press
---
RUSSIA: Belgium forward Eden Hazard accepts the spotlight is on him at the World Cup, increasingly so now that Cristiano Ronaldo and Lionel Messi have gone home.
"They are not in the World Cup, so now it's time to shine," a smiling Hazard said before Belgium's last-16 match against Japan on Monday.
Ronaldo and Messi have each won five world player of the year awards. But neither has won the World Cup, and on Saturday both Portugal and Argentina were eliminated. Hazard still has a chance to win it.
In the past, Hazard has talked himself up about being good enough to become a player of the year award winner.
But the 27-year-old Chelsea star, who has 24 international goals, is playing some of his best football and clearly backs himself to deliver. He also fervently believes in this slick Belgium side's ability to live up to its reputation as one of the pre-tournament favorites.
"It is time to shine definitely, we have top players," Hazard said Sunday at a pre-match news conference. "I think now it is in our hands."
Belgium coach Roberto Martinez agrees the opportunity may be too good to squander.
"The champions of Europe (Portugal) are out, the world champions (Germany) are out," Martinez said. "I think the team is in a very good way, mentally and physically. You just get the feeling the players are desperate to be on the pitch. When you create that competitive nature, all you see is players who are ready (and) desperate to contribute."
Belgium's best World Cup performance was reaching the semifinals in 1986, when it succumbed to two second-half goals from Argentina great Diego Maradona in a 2-0 loss.
At this World Cup, Belgium swept through the group stage with three wins, just like four years ago in Brazil. But Hazard insists this team is considerably stronger than in 2014, when Belgium went out in the quarterfinals, and better than the side which lost 3-1 to Wales in the quarterfinals of the European Championship two years ago.
"I'm a better player than I was two years ago, better than I was four years ago in Brazil, that's for sure. It was our first major competition together four years ago in Brazil, and (Euro 2016) was our second," Hazard said. "It's harder when you have a younger team, even if you have good players. But I think now everyone has reached the summit of their career. We're all between 25 and 32 years old. So, in terms of maturity we're all ready, and I think that makes the difference."
Hazard has scored twice so far in Russia, and set one up for center forward Romelu Lukaku, who is level with Ronaldo on four goals and one behind top scorer Harry Kane of England.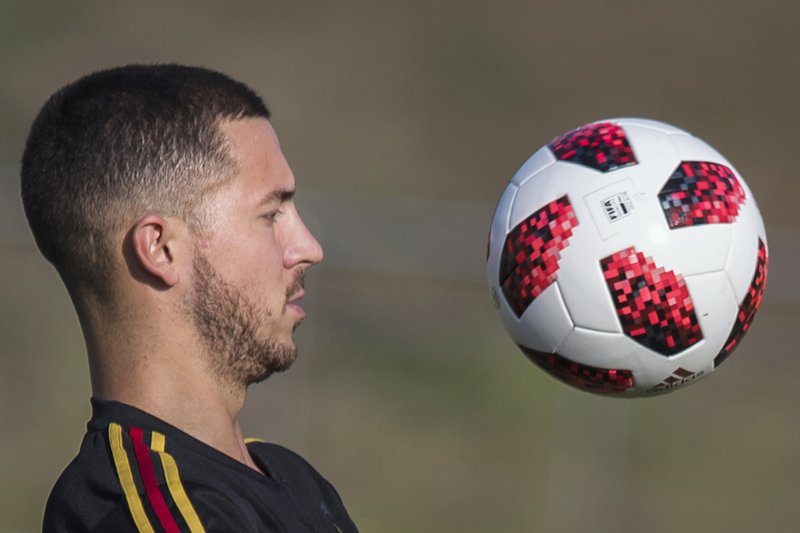 Belgium's potent attack is a mixture of speed, skill and strength, with Napoli forward Dries Mertens completing the trio and with midfielder Kevin De Bruyne feeding them clean passes.
"I think we've reached the best level of our careers. Romelu joined a very big club (Manchester United) and scored goals; Dries has been one of the best scorers in Italy the last two or three years," Hazard said. "I'm maybe less of a scorer than they are, but I'm always able to create something."
The burly Lukaku has improved his movement off the ball, Hazard says, along with his work rate and finishing.
"What's great about having Romelu is that he doesn't need many chances to score. Maybe a few years ago, he needed more," Hazard said. "But the reason why he's in the category of the very best strikers is that when he gets three chances in a game, he scores two. In terms of movement, he's better than he was a few years ago. In terms of defending, he does more."
The World Cup final is on July 15, and Belgium has extra reason to reach Moscow.
"I've never celebrated my birthday in Russia," said Martinez, who turns 45 on July 13. "It could be something very nice and different."