By Barnabas Ticha Muvhuti | The Conversation
---
THE work of award-winning Zimbabwe-born sculptor Shepherd Ndudzo is instantly recognisable. Fluid, elongated black bodies and body parts flow from white rock in a typical work. The bodies are dancing or praying, holding hands or reaching out.
These figurative sculptures, carved out of stone (marble and granite) and wood (ironwood), were recently shown along with his abstract wooden sculptures (titled Seed) at the FNB Joburg Art Fair in South Africa by Botswana's Ora Laopi contemporary art gallery and research project.
The work by the artist (born in 1978) was displayed as a celebration of the sculpture of Botswana, where he lives and works. The show was dedicated to his father, Barnabas Ndudzo, the famed creator of realistic, often life-size sculptures. In a documentary produced by the gallery, Shepherd tells how he was taught to sculpt by his father. He says that his works speak about migration and help tell his family story.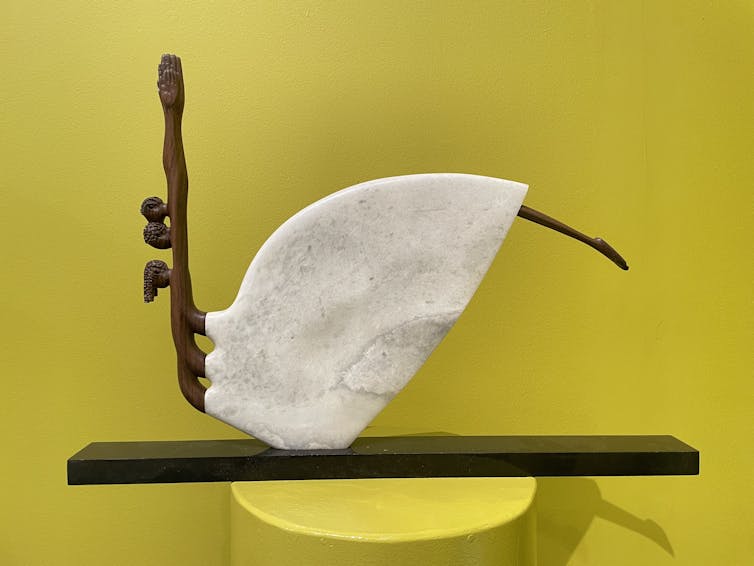 It's a tale that spans three neighbouring southern African nations, all known for their sculpture – Zimbabwe, Botswana and South Africa. It exposes a history of shared traditions and schools of teaching, of colonial-era gatekeeping and art world wars. It's this history that informs the research for my PhD thesis on Zimbabwean art.
It's my view that Shepherd Ndudzo's work can only be fully appreciated by understanding his transnational story and how it has shaped his life and career, showing how art traditions are invented and reinvented across borders.
Kekana school
His father Barnabas was born in Zimbabwe and attended the Kekana School of Art and Craft in the late 1960s. Early art schools in Zimbabwe were founded and run by white missionaries and expatriates. But the Kekana School was founded by a black artist and teacher. The school was started at St Faith's Mission near Rusape by South African sculptor Job Patja Kekana in the early 1960s, long before Zimbabwe attained independence in 1980.
Kekana had trained at Grace Dieu Mission Diocesan Training College near Pietersburg (Polokwane). The same institution was attended by Gerard Sekoto and Ernest Mancoba, two of South Africa's prominent black modernists. (Modernism was an era of experimentation in art from the late 1800s to the mid 1950s. It saw new ideas, new media and the uptake of socio-political concerns.)
Kekana had settled at St Faith's in 1944 and stayed until he died in 1995, except for the three years (1960-1963) when he attended art college in the UK. When Shepherd enrolled at St Faith's High School in Zimbabwe in the early 1990s, he briefly met his father's ageing mentor.
Shepherd mostly learned from assisting and observing his father at work. Like Kekana and all his students, Barnabas mostly carved realistic statues and busts.
Art war
Zimbabwe is famous for its "Shona sculpture" tradition in which artists use handmade tools, patiently carving human and animal forms from serpentinite rocks. UK-born artist, teacher and museum curator Frank McEwen pigeonholed artists from various ethnic backgrounds and different countries – and not just from the Shona people – in a single misnamed cultural basket. Their individual creative styles did not matter.
McEwen was the founding director of the Rhodes National Gallery (National Gallery of Zimbabwe). Although he was celebrated for his efforts at promoting Zimbabwe's abstract stone sculpture tradition, ensuring that the world accepted it as modern art, his presence was bad for artists who worked with media like wood and were making realistic works, as well as for those stationed at missionary workshops. (Figurative art represents existing objects. Abstract art usually has no real-life visual reference. Realism refers to accurate depictions usually portraying a sitter or model.)
McEwen preferred working with sculptors from the National Gallery School and the Tengenenge workshop until he had a fall-out with its founder, Tom Blomefield. As reported in the press, Blomefield accused McEwen of stealing artists from his stable. Art historian Elizabeth Morton highlighted that when Kekana visited the National Gallery School soon after his return from the UK he was chased away by McEwen, who didn't want to see him near his students.
Barnabas
With McEwen holding the most powerful position at the nation's central art institution, artists from Kekana's school found themselves on the periphery of Zimbabwe's mainstream art canon. They had to rely on church commissions and teaching jobs. This probably explains why Barnabas briefly found himself conducting "ecumenical workshops" for the Methodist Church in 1970 and 1971. Today the national gallery doesn't have a single piece of his in its collection.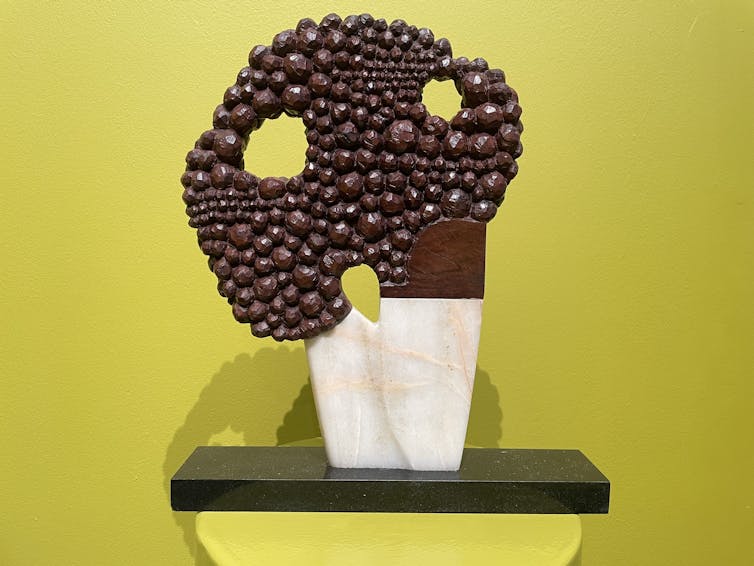 Barnabas headed south, finding a home at the Federated Union of Black Artists (Fuba), an academy in Johannesburg. He settled in Botswana in the mid-1990s. He taught art at Gallery Ann and other institutions before moving to Thapong Visual Arts Centre where he continued to mentor emerging artists.
He gained considerable recognition and respect in Botswana. And it's in Botswana that his son Shepherd continues to sculpt, having moved to the country initially to assist his father.
Shepherd
The younger Ndudzo collects the hardwood he uses from construction sites, especially from trees bulldozed for road construction. He prefers marble from Zambia and Namibia which comes not only in white, but also in various shades of grey and brown. He highlights how citizens of these countries walk across the countryside on this resource, hardly appreciating its importance. The black granite he combines them with is mostly from Zimbabwe.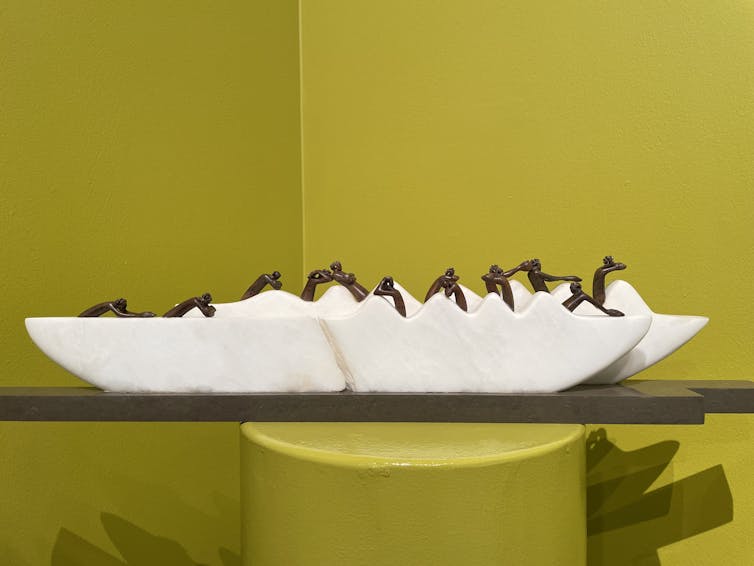 Recently, Shepherd took me to his home in Oodi village in Kgatleng district. His vast open yard is his studio – where his artist neighbours tolerate the deafening noise of his sculpture making.
Though he talks about moving away from his father's realistic style, I still see strong elements of it in his work. The bas-relief carving in the larger works of wood exhibited at the Joburg Art Fair is a good example. It's a style inherited from Kekana, who "taught his students bas-relief carving, and realism and understanding of the wood grain".
Thus I see Shepherd Ndudzo as an artist sustaining a legacy emanating from the Kekana school. However, his work oscillates between figuration and abstraction. It's quite conceptual in that it is about ideas and quite experimental in that it blends different elements. The artist points to the likes of Tapfuma Gutsa as his greatest inspiration. Gutsa transformed Zimbabwe's stone sculpture tradition, blending stone with various other elements.
Lineage
Shepherd's decision to dedicate his exhibition to his father and mentor is an important gesture. It highlights the story of a sidelined artist, mostly written out of history, like others from the Kekana school.
Artists do not make art in complete isolation. Highlighting the lineage Shepherd Ndudzo belongs to helps us understand his practice, choice of materials and aesthetic references.
It's a lineage that's transnational in outlook – linking Botswana, South Africa and Zimbabwe – and his materials are drawn from different countries. This helps us appreciate how artistic practice can feed off art ecosystems across southern African borders.